Bad refereeing has always been a part of our Beautiful game.Its not really new reason for a Football fan to get disappointed;the history of pathetic refereeing rolls back to the very past.The history of the Football world have met with this phenomena for countless times and yes,its no surprise that it has been one of those important 'decisive factors'!
From the smallest league matches to the UCL final or a World Cup finals,we have witnessed a hell loads of the refereeing nightmares.
Coming to the subject now,this phenomena has now haunted the Viola and the Gunners in the knock-out stage of the UEFA CL and has left the beloved fans gutted.
Bayern Munich 2-1 Fiorentina
Fiorentina were 'robbed' from a draw with Miroslav klose's controversial last minute goal at Munich.Klose was clearly in an off-side position when he noded home Olic's rebound to equalize.Viola's off-side appeals were waved away by the official,well,as expected.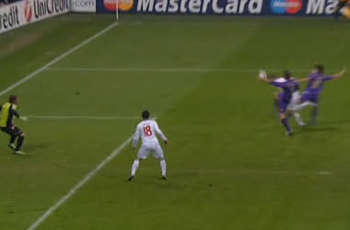 On-side says the ref,no surprise.
Later in an interview,klose has admitted that he was in an off-side position when he headed the goal home and he has no regrets.
"My instinct told me that I was offside, but it was only when I saw the television pictures that I was sure of it"
said the German center-forward.
So,here it goes-The Germans have the lead,that means the Viola have to work harder in the next leg of the tie.Nothing else.
Porto 2-1 Arsenal
Well,it will be a biased act if I say that the Gunners were 'robbed'.Arsenal played a silly and a school-boyish football,while the latter were atleast professional.But yes,the Gunners could have expected a draw,if the match was refereed by an atleast average ref.
Old Sol Campbell equailized for the Gunners after Varela gave the lead for Porto by some ridiculous goal-keeping from Fabianski.It was on 51th minute,Sol Campbell,gave a silly back-passed to Fabianski to pick up.
Yes,it was a foul..and ref did blew the whistle..but then happened the drama.Porto did the bread and butter of Football,ie,passing and finishing,even before the Gunners stop the argument with the ref.Controversial,that it is.The ref should have rejected the goal,of course.As expected,the ref,the self-imposed God,gave no ears to the Gunner's appeal and approved the goal.
So,Porto lead in the away match,to make things difficult for Arsenal.Easy as that.
Period.